---
A Waterfall Lover's Guide to the Pacific Northwest 5th ed.
North Cascades
---
17 Boulder River
Waterfall Entries (refer to hardcopy book for descriptions and directions, page numbers are provided below)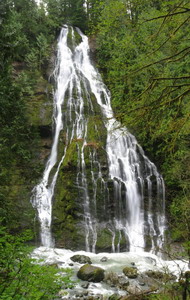 Feature Show Falls
Rating: **
Form: segmented
Magnitude: 23 (l)
Access: trail (page 61)
USGS Map: Meadow Mtn (1989 nl)
Edition: 1st
Image courtesy of Aaron Young








More
Click Here for Ryan Falls, USGS Stimson Hill (2002 ns).
Output the CLICK HERE page to match your hardcopy book by changing your printer settings to 9" x 5 3/4".
Others
Boulder Falls, USGS Meadow Mtn (1989), occurs a short distance downstream from Feature Show Falls (listed above) along the main river, but there is no developed access.
---
Go to next section of North Cascades
Go to previous section of North Cascades
North Cascades Contents
North Cascades Index
Master Table of Contents
Master Index
Perform a Selective Search
View Chronological List of Additions
View Chronological List of Updates
Place a Book Order Online

COPYRIGHT 2013 by Gregory A. Plumb
GUIDEBOOK published by Mountaineers Books