---
A Waterfall Lover's Guide to the Pacific Northwest 5th ed.
Olympics
---
19 Porter
Waterfall Entries (refer to hardcopy book for descriptions and directions; page numbers are provided below)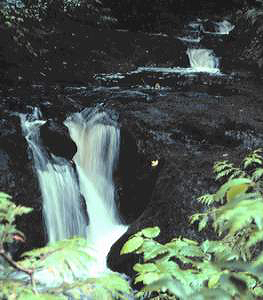 Porter Falls
Rating: **
Form: punchbowl
Magnitude: 32
Access: trail (page 108)
USGS Map: Malone (1993 nl)
Edition: 3rd









More
Click Here for Mima Falls, USGS Littlerock (1993).
Output the CLICK HERE page to match your hardcopy book by changing your printer settings to 9" x 5 3/4".

Others
Rock Creek Falls, USGS Malone (1993 ns), is labeled on the State Forest map as a point of interest, but no trails are shown leading to it. Dean Creek Falls (u), USGS Dean Creek (1994 nl), is probably on private property with unknown access.

---
Go to next section of Olympics
Go to previous section of Olympics
Olympics Contents
Olympics Index
Master Table of Contents
Master Index
Perform a Selective Search
View Chronological List of Additions
View Chronological List of Updates
Place a Book Order Online

COPYRIGHT 2013 by Gregory A. Plumb
GUIDEBOOK published by Mountaineers Books