---
A Waterfall Lover's Guide to the Pacific Northwest 5th ed.
Inland Empire
---
6 Park Rapids
Waterfall Entries (refer to hardcopy book for descriptions and directions; page numbers are provided below)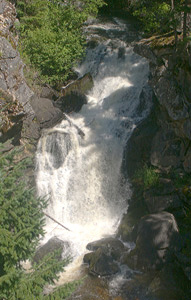 Crystal Falls
Rating: ***
Form: tiered
Magnitude: 75 (h)
Access: auto (page 187)
USGS Map: Park Rapids (1992)
Edition: 1st








More
Click Here for Exley Falls, USGS Fan Lake (1980 nl). NEW!
Output the CLICK HERE page to match your hardcopy book by changing your printer settings to 9" x 5 3/4".

Others
Content has been removed from the web site that once described a tough bushwhack to Dovetail Falls (u), USGS Fan Lake (1980 ns). Considering there is a lot of private property in the area, perhaps that is the reason why.

The lodge bearing the name of Cedar Falls, USGS Camden (1980 ns), is now closed with no trespassing on the property.
Nothing more than a riffle could be found at Calispell Creek Falls (u), USGS Sacheen Lake (1992 nl).
---
Go to next section of Inland Empire
Go to previous section of Inland Empire
Inland Empire Contents
Inland Empire Index
Master Table of Contents
Master Index
Perform a Selective Search
View Chronological List of Additions
View Chronological List of Updates
Place a Book Order Online

COPYRIGHT 2013 by Gregory A. Plumb
GUIDEBOOK published by Mountaineers Books